As a dog owner, you want to make sure that you give your dog only the best foods. That also means avoiding feeding your dog certain foods. This is because dogs have different food tolerances than humans and what may be healthy for a human could be poisonous for a dog.
The following foods are ones that dogs can't eat because they're harmful.
Chocolate
Chocolate is one of the more commonly known foods that is toxic to dogs. Dogs shouldn't eat chocolate because of the methylxanthines in it. This is a stimulant that can cause a dog's metabolic processes to stop. Even in small amounts, chocolate can cause vomiting and diarrhea. In larger amounts, a dog could suffer from seizures, heart function irregularities, or even death.
Onions
Even a little bit of onion can damage the red blood cells in a dog's body, which can cause anemia.
Garlic
Like onions, garlic can also damage a dog's red blood cells, causing anemia.
Avocado
Avocados may be delicious and healthy for humans, but they're not good for dogs. Avocados contain persin, a fatty acid that can be toxic to dogs if ingested in large quantities.
Grapes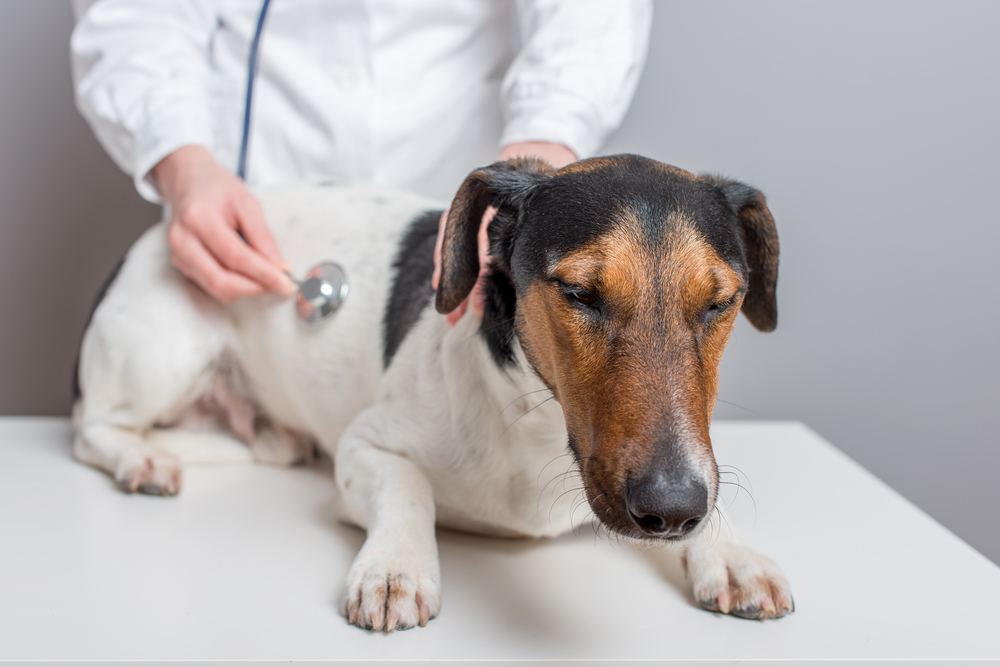 Any part of the grape, including the seeds and the skin, are toxic to dogs. Grapes can cause a dog's kidneys to fail and should therefore be avoided.
Raisins
Raisins are essentially dried grapes and therefore have the same toxicity to dogs as grapes do.
Caffeine
Like chocolate, caffeine contains a stimulant. While that's great for humans when we need a quick jolt of energy in the mornings, it's not good for dogs and is toxic for them.
Dairy Products
The only milk that dogs should be drinking is milk from their own mothers. Other than that, dairy products can be toxic for dogs, whether it's from a cow, goad, sheep, or any animal other than a dog. This is because dairy products made from other animals' milks contain fatty acids and sugars that dogs can't properly digest.
Yeast Dough
Yeast dough can cause several problems for dogs. The first is that it can ferment in the dog's stomach, which can result in alcohol poisoning. The second is that it can expand within the dog's stomach, which is painful for the dog. While it may be tempting to give dough bits to your dog if you're making homemade bread or pizza, you should avoid feeding them the dough.
Sugary Foods
In small quantities, sugary foods may not be terrible for your dog. However, be careful about feeding your dog too much sugar. This is because sugar can, in dogs, cause tooth decay, diabetes, and weight gain, just like it does in humans.
Salt
You shouldn't feed your dog too many salty foods, either. This is because too much salt can cause your dog to get really dehydrated. Additionally, salt can also cause sodium ion poisoning in dogs. It's okay to feed your dog little bits of salt, but be careful how much you're giving them so you don't give your dog too much.
Macadamia Nuts
Macadamia nuts are poisonous for dogs. It's not known exactly what makes them so, but you should avoid giving your dog anything that has macadamia nuts in them, even little bits of a macadamia nut cookie.
Almonds
You should also avoid feeding your dog almonds. They're not toxic or poisonous, but they can splinter and get lodged in your dog's throat and block their esophagus. Shards of almonds could damage your dog's throat.
Cinnamon
Cinnamon isn't exactly toxic to dogs, but it can irritate your dog's mouth. It may not be dangerous, but it could make your dog sick or uncomfortable. Plus, your dog could inhale it, which could result in breathing problems and coughing. Cinnamon could also lower your dog's blood sugar, which could pose a health risk.
Ice Cream
Many dogs love ice cream. However, you should avoid feeding it to your dog. It's both sugary and a dairy product. If you find ice cream designed specifically for dogs, that could be safe for your dog, but it's always wise to check the ingredients.
Artificial Sweeteners
Just like sugar isn't good for dogs, neither are artificial sweeteners such as xylitol. Xylitol, for example, could result in low blood sugar or even liver failure.
Alcohol
Alcohol has the same effects on dogs that it does on humans. However, dogs can't handle nearly as much alcohol as humans can and even a little bit could be harmful, especially if your dog is small.
Fat Trimmings
Fat trimmings, whether they're uncooked or cooked, can be dangerous for dogs. They could cause pancreatitis.
Bones

Dogs love bones, don't they? Unfortunately, a bone could cause your dog to choke. Another risk is that the bone could splinter and either block or cause damage to your dog's digestive tract. There are bones at pet shops that are made of safer materials that you can get for your dog.