Hi, I'm Dr. Qasim
We can't explain to our pets why they need veterinary care, but we can do our best to provide quality care that ensures them a long, healthy life. I've made it my life's mission to bring high-quality veterinary care to Orlando families.
I understand how integral your pets are in your life. To keep them healthy and happy, I've hired a team of talented Central Florida veterinary professionals to provide specialty care and guidance through any situation you may face.
I stay ahead of veterinary medicine trends and keep the clinic equipped with advanced technology. This is all done in order to provide the most accurate diagnosis for any ailments your pet may have. We will spend as much time as your pet needs to recover back to full health.
Whether you're looking to have your pet's annual vaccinations completed or you're in search of more specialized veterinary care, give me a call at 407-352-2579 to schedule an appointment. I look forward to assisting you and your furry family members.

Have Your Pet Treated by the Best
Experienced Veterinary Professionals
Our dedicated team of veterinary professionals provides a range of specialties and experiences to the team. Their compassionate approach to all situations keeps your pet comfortable and at ease during examinations and treatments. If you're searching for a team you can trust through each stage of your pet's life, you'll find it at Dr. Phillips Animal Hospital.
Make Your Pet's Health a Priority
Annual Vet Care Plans
Vet bills can add up quickly. To diminish the financial strain put on pet owners we developed an annual vet care plan. This plan includes unlimited office visits, a free nail trim, dental work, and more – all in the name of keeping your pet in their best health.
Get the Help You Need, When You Need it Most
Extended Clinic Hours
Let's face it – you can't plan an accident. When emergency strikes, we'll be here. Our office is open seven days a week with extended hours, including weekends. Plus, for times when you can't take a day off from work for your pet's annual check-up, our extended hours are here to accommodate busy schedules.
Customer Testimonials
"You can tell that they love pets and enjoy working there. Our dog used to be skittish when we would go to our old Vet. Now he wags his tail going and coming." Michael C. via Yelp
"My Savannah is only alive because the Dr. and his amazing assistants really care and take the time to love and treat her illnesses. He is truly a dedicated and brilliant Veterinarian, caring and very affordable. Thank you for all you do to take care of my girls" – G's Q. via Yelp
"Dr. Phillips Animal Hospital is amazing!! Bar none! The staff is amazing. I've been to many vets in my lifetime and always my biggest complaint has been getting the vet to "talk" to me. The doctor was so thorough and forthcoming with information. I would gladly recommend this clinic to anyone trying to keep a family member (old, young, big, small, canine, feline) happy and healthy. The staff is more than willing to work with everyone, even if you're on a budget. They give out estimates before any treatments are done. They have health plans through the clinic that, for a flat rate, give you unlimited office visits and more for a year. This clinic is a must visit if you'd like to find a great place for your four-legged family member(s)." – Michelle A. via Yelp
Step Two:
Our expert vet will take care of all of your pet's needs.
Step Three:
Get back to enjoying your happy and healthy life with your furry best friend.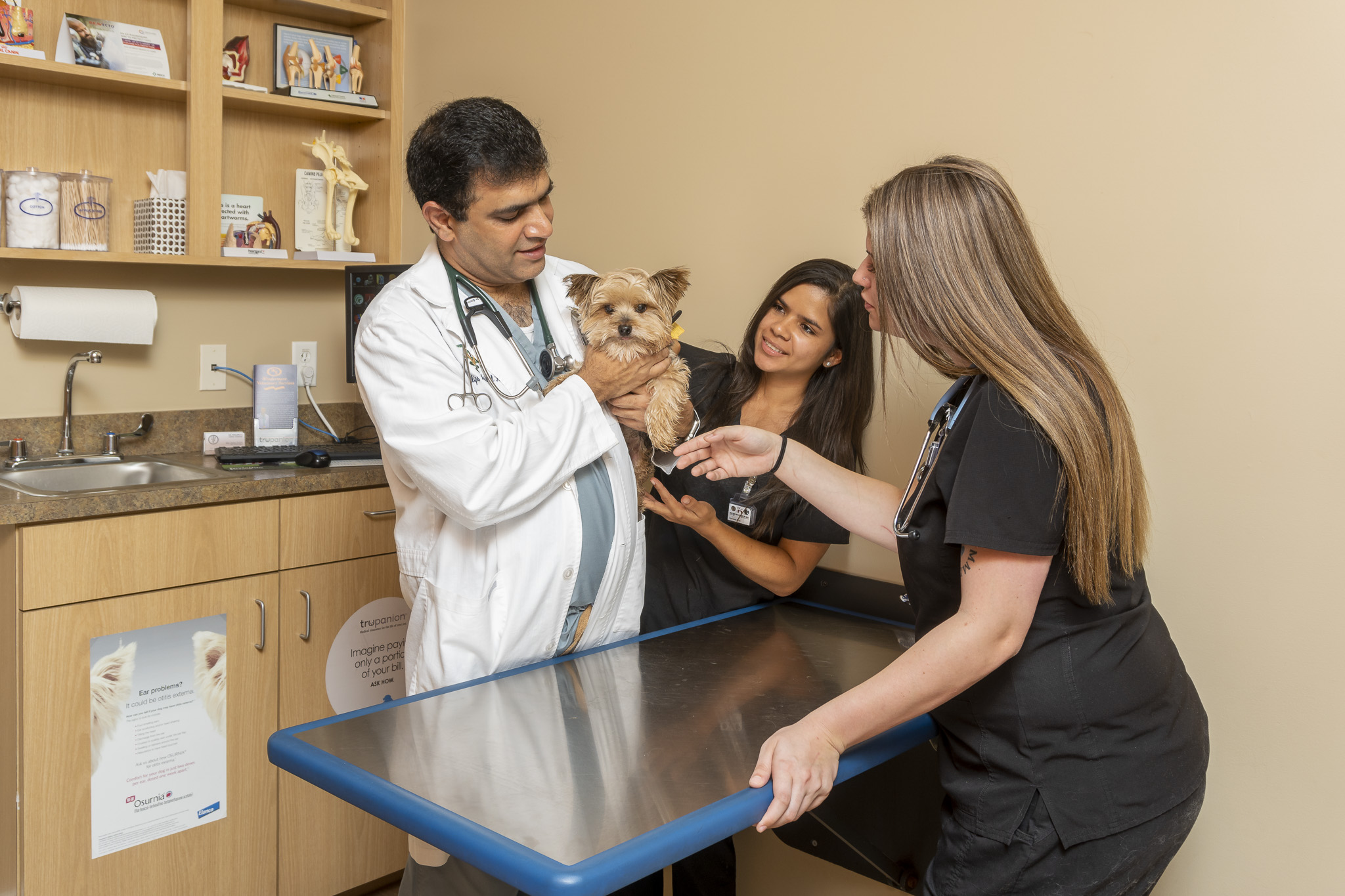 Get the Best Care for Your Pet
Come Visit Dr. Qasim
Book your pet's appointment with Dr. Qasim to ensure a long, happy life together.