We're here for you
Emergency?
If your pet is exhibiting concerning symptoms or experiencing a medical emergency, please call our clinic at (407) 352-2579. We'll help you through it.
Fruit can be a tasty treat for humans, but when fruits such as grapes are consumed by dogs, they can be toxic. Grapes contain a toxin called tartaric acid and tannins that cannot be digested properly by dogs. While humans can digest grapes properly, a dog can fall ill if they consume grapes in high amounts. If you find that your canine companion has consumed grapes, take note of when they consumed it and understand when to seek professional help.
If Your Dog Ate Grapes, Follow These Steps
If you noticed your dog has consumed grapes, understand what you should do and when to contact a veterinarian.
Assess Your Surroundings
If see your dog eating grapes, the first thing you should do is take into account your surroundings. Try to determine how many grapes were consumed as well as where and when they were consumed. All of these factors will be important when evaluating any future treatment and how lethal the level of consumption may be. Store away any foods that are harmful for dogs, like grapes or chocolate, in a place your pet cannot access them.
Call Animal Poison Control
It's important to act quickly if your dog eats grapes. It's even more important if they ate a large amount. Calling animal poison control can help you to get immediate advice and a medical evaluation. For your pet's health, it's essential to provide only what treatment a veterinary professional tells you to so you don't inadvertently worsen your pet's condition. Depending on your pet's status, poison control may tell you to take your dog to an emergency vet.
Contact a Veterinarian
After contacting animal poison control, you should make an appointment with your local veterinarian. Depending on what poison control has directed, this may be an emergency appointment or a follow-up. A vet appointment is a good idea no matter what so you can be sure that the toxins have cleared your pet's system and they won't have any long-term complications. Even if your pet isn't in any immediate danger, grapes could have longer-lasting effects. Booking an appointment can also help you by relieving you of worry about your pet.
Common Treatments for Grape Consumption in Dogs
A vet may recommend certain treatments for you if your dog has consumed a large number of grapes and is having ongoing health troubles. Some of the most common treatments a vet may recommend include:
Induced Vomiting
Consumption of Fluids
Perscribing Activated Charcoal
Why Are Grapes Harmful to Dogs?
Grapes are harmful to dogs to consume because of the tartaric acid they contain. Tartaric acid can attack the kidneys of a dog and lead to their breakdown. This acid can also cause digestive issues in dogs, and even affect their nervous systems. While humans can digest this acidic compound, dogs genetically are unable to digest them.
What Symptoms Apper After Grape Consumption?
Symptoms can appear quickly in dogs after they eat grapes. Sometimes the symptoms show up immediately, and other times it may take up to 48 hours for dogs to begin feeling sick. Some common symptoms to look out for after a dog consumes grapes are lethargy, a loss of appetite, bad breath, vomiting, or other digestive troubles.
What Amount of Grapes Can Be Harmful to Dogs?
Your vet and any professional assisting you after your dog eats grapes will need to exactly how much was consumed to decide the best course of action. Even a small amount of grapes can be harmful to dogs, however, a small amount will be much easier to treat. Usually, the measure is one grape per pound of weight. So, if your dog is small and only a few pounds, just a few grapes could be fatal for them.
The amount of toxicity present in a dog's system depends on its size. One grape per ten pounds of body weight should be considered an emergency. This means that consuming even a handful of grapes could be fatal, let alone an entire bag. However, prompt veterinary treatment may be able to save a dog's life.
Always Contact a Vet
While a dog eating grapes may not always feel like an emergency, it's important to consult with a professional to confirm it the incident is serious or not. If too many grapes are consumed, some dogs may not survive the damage done by the acidity. Luckily, however, if you act quickly many vets can help a dog recover and prevent any long-term damage.
Step Two:
Our expert vet will take care of all of your pet's needs.

Step Three:
Get back to enjoying your happy and healthy life with your furry best friend.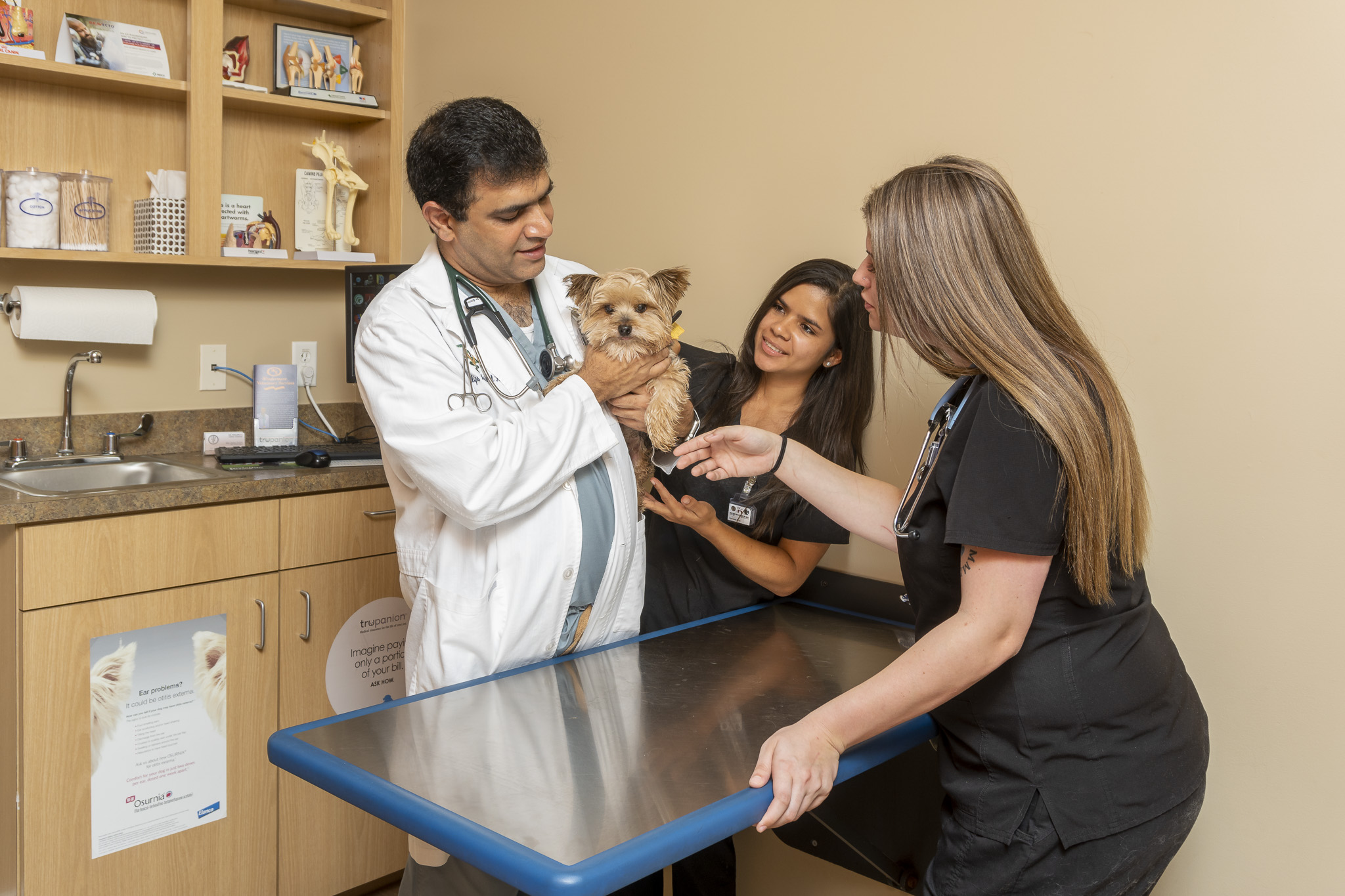 Get the Best Care for Your Pet
Come Visit Dr. Qasim
Book your pet's appointment with Dr. Qasim to ensure a long, happy life together.

We love and care for each patient as if they were our own pet.
Meet Our Team of Animal Lovers
Dr. Bilal Qasim, DVM, established Dr. Phillips Animal Hospital in 2011 after practicing veterinary medicine for over 17 years with the help of talented and caring veterinary technicians.