While traveling can be fun, it can also be stressful. There's a lot to organize and arrange before you go, even for something relaxing like a vacation. Traveling with a pet can be even more stressful, for both you and your pet, especially when you're flying. Therefore, the best thing you can do is to research everything you can ahead of time so you can rest assured that you've got everything taken care of.
#1
Decide Whether or Not to Fly with Your Pet
First, you need to decide if flying with your pet is truly the right choice. Typically, it's not recommended to fly with a pet unless it's necessary. Flying can be stressful for pets, and in many cases, it's not worth the hassle to bring them along, especially when the trip is short. If you're going to be gone for two weeks or more, or if the move is permanent, then you'll want to bring your pet with you on the flight. If the trip is for only a few days, however, consider boarding your pet instead.
#2
Make Sure Your Pet Meets the Airline's Requirements
Some airlines may restrict which pets can fly with them. The airline will make its decision based on the following criteria:
The airline may decide not to allow your pet to board the plane at all. If your pet is older and in poor health, the airline may not feel that it is safe for your pet to fly with you. Plus, there are laws regulating pets on aircraft. For example, your pet must be at least eight weeks old and weaned for at least five days before being allowed to fly. Some airlines ban certain breeds, such as snub-nosed breeds, because they have breathing issues that can be worsened on planes.
Cargo Hold vs. Airplane Cabin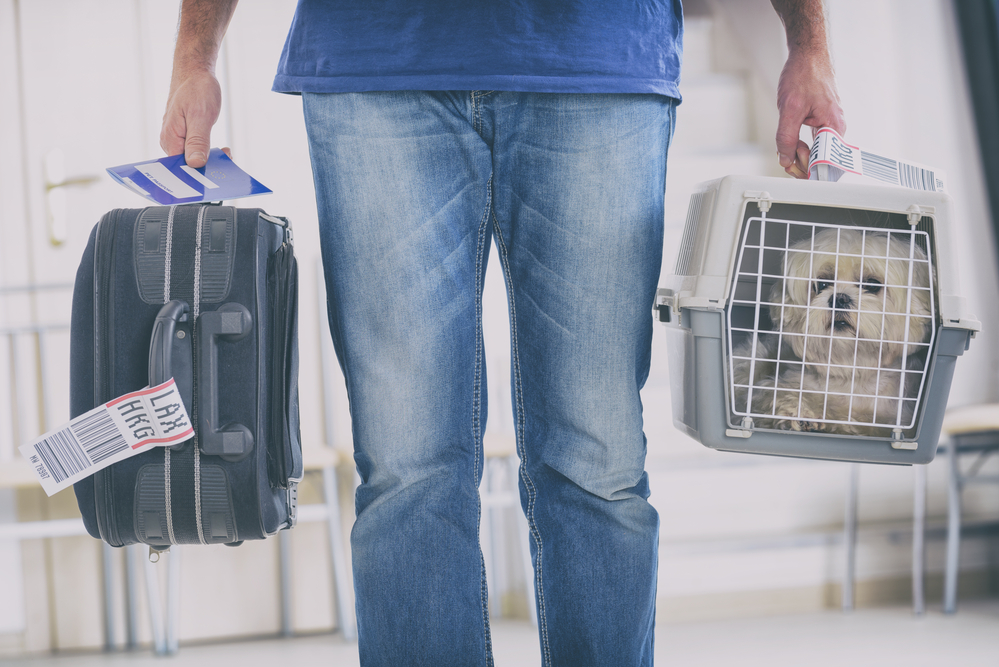 If your pet is qualified to fly with you, then you'll need to determine whether or not your pet can fly with you in the cabin or whether they'll need to fly in the cargo hold. Typically, a pet's size is the most important factor. Pets that are small enough to fit inside approved carriers that can fit underneath the seat in front of you on the plane are allowed inside the cabin. Pets that are too large to fit in those carriers will have to fly in the cargo hold, which is more stressful.
Cargo Hold
Some dogs are too large to fly even in the cargo hold, so check with your airline ahead of time to make sure that your dog meets their size requirements. Additionally, some pet owners choose not to fly their pet at all if they have to go into the cargo hold. This is because it can be stressful for the pet.
Airplane Cabin
If your pet is small enough to fit under the seat in front of you, you can bring them into the cabin with you. Your pet's carrier will count as your carry-on luggage, however, so you may need to check a bag when you wouldn't normally have to.
#3
Register Your Pet with the Airline
It's a good idea to register your pet with the airline as soon as you know you're flying with them. This is because some airlines have limits on the number of pets that can be in the cabin at once. If this is the case, it's typically first-come-first-served. This means that the sooner you let the airline know that you're flying with a pet, the more likely you are to be able to bring your pet.
Plus, letting the airline know ahead of time that you're flying with a pet is a courtesy so that it's easier for them to make arrangements. For example, if someone is flying who has extreme pet allergies, it's easier for the airline to accommodate everyone if they're aware ahead of time.
#4
Understand Airline Fees
Airlines usually charge pet fees. This can be up to around $200 for pets traveling in the cargo hold and up to $75 for pets traveling in the cabin. However, this may differ depending on the airline, so you should research this before you book your flights. It may also depend on the size of your pet. If you have a very large dog, for example, the costs may be even more.
#5
Choose the Right Carrier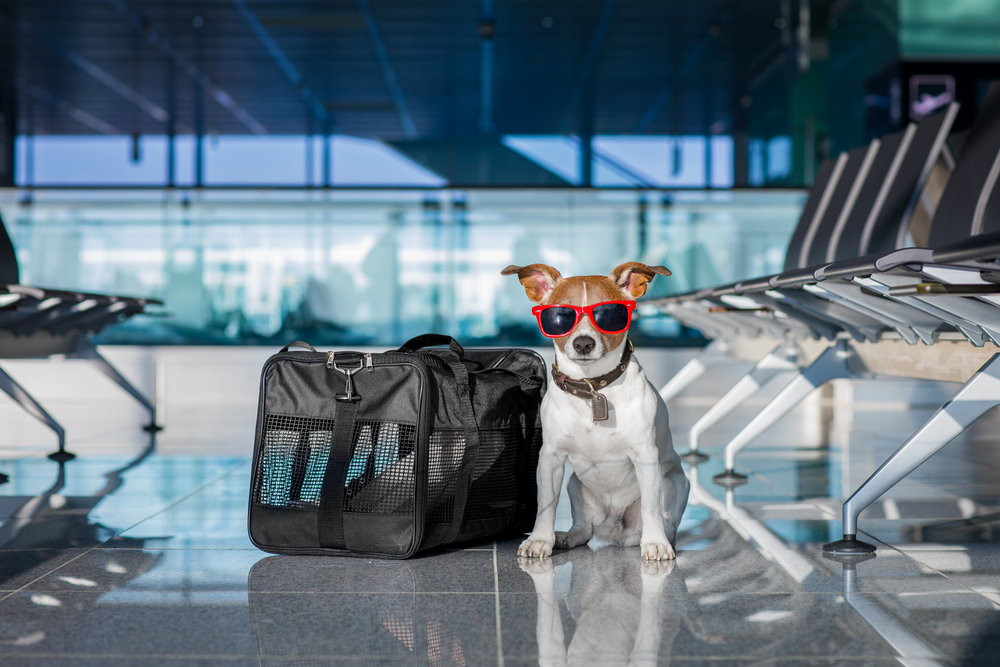 If your pet is small enough to fit under the seat in the cabin, you'll need to keep them in a carrier. Your best bet is to purchase a pet carrier directly from the airline you're flying with. That way, you'll know that it meets their requirements. If you'd prefer to use your own, airlines typically have size limitations. The carrier must also be a soft one, not a hard plastic one.
Your pet must also be able to comfortably stand up and turn around within the carrier.
Cargo Hold Crates
If your pet is flying in the cargo hold, then you'll need a hard crate. Pet owners are legally required to line the floor of the crate with an absorbent material, such as a towel or shredded paper. Check your airline's requirements on the size and other possible requirements of a crate for a pet traveling in the cargo hold.
#6
Take Your Pet to the Vet
Whether a vet visit is required depends on the airline. Many require a signed certificate from a vet issued within ten days of your flight showing that your pet is healthy enough to travel. You may want to book your pet's vet appointment ahead of time so that you know you'll be on the vet's schedule.
Print Required Documentations
You'll also most likely need to prove that your pet has had all of their required vaccinations. Different airlines may have different requirements for what documentation they want to see. You can keep digital records of these documents, but it's still a good idea to bring paper copies with you just in case.
#7
Look up Local Pet Regulations
If you're flying internationally, your destination country may have regulations pertaining to incoming pets. For example, some countries have quarantine periods for any pets flying in. This is another reason why many choose not to bring their pets along for shorter trips. Sometimes, the quarantine period can be longer than the trip itself! Additionally, other countries may have documentation requirements beyond what the airline asks for.
#8
Prep Your Pet for Flight
Flying is stressful for a pet. You should crate train them so that they're comfortable sitting in a crate for long periods. For many pets, a crate or carrier can be a safe zone that will help them to be less stressed during the flight, especially if they've been trained in it ahead of time.
Don't Tranquilize Your Pet
Whatever you do, however, don't tranquilize your pet. While this may calm your pet, it can be dangerous for them in-flight. Vets don't recommend tranquilization for this reason. Plus, the airline won't let your pet on the flight if they've been tranquilized.
Be Careful About Medicating Your Pet
If you'd like to give your pet some anti-anxiety medication or Benadryl for the flight, talk to your vet first. Your vet can advise you on what, if anything, you should give to your pet.
#9
Arrive Early to the Airport
You'll need as much extra time as possible at the airport. Make sure to arrive even earlier than you would normally.
Minimize Food and Drink
Be careful about how much food and drink you give your pet. There are limited options for where they can relieve themselves. There won't be anywhere to do that in-flight, but airports typically have animal relief areas that your pet can use. Your pet can go without food for any length of flight, but for a flight longer than four hours, you'll need to give them some water. A water dish will need to be secured firmly in the crate if your pet is flying in the cargo hold.
Pick up Cargo Hold Pets Immediately
If your pet has to travel in the cargo hold, make sure to pick them up after your flight as quickly as you possibly can. Your pet's already been waiting for a long time in the cargo hold without you. They'll be anxious to see you as soon as possible.